What you'll learn
Gain insights into various common cardiac emergencies

Learn about various emergency drugs used in the cardiac care unit

Acquire knowledge about the standard diagnostic procedures of the cardiac care unit

Develop nursing skills for cardiac rehabilitation
Sample Certificate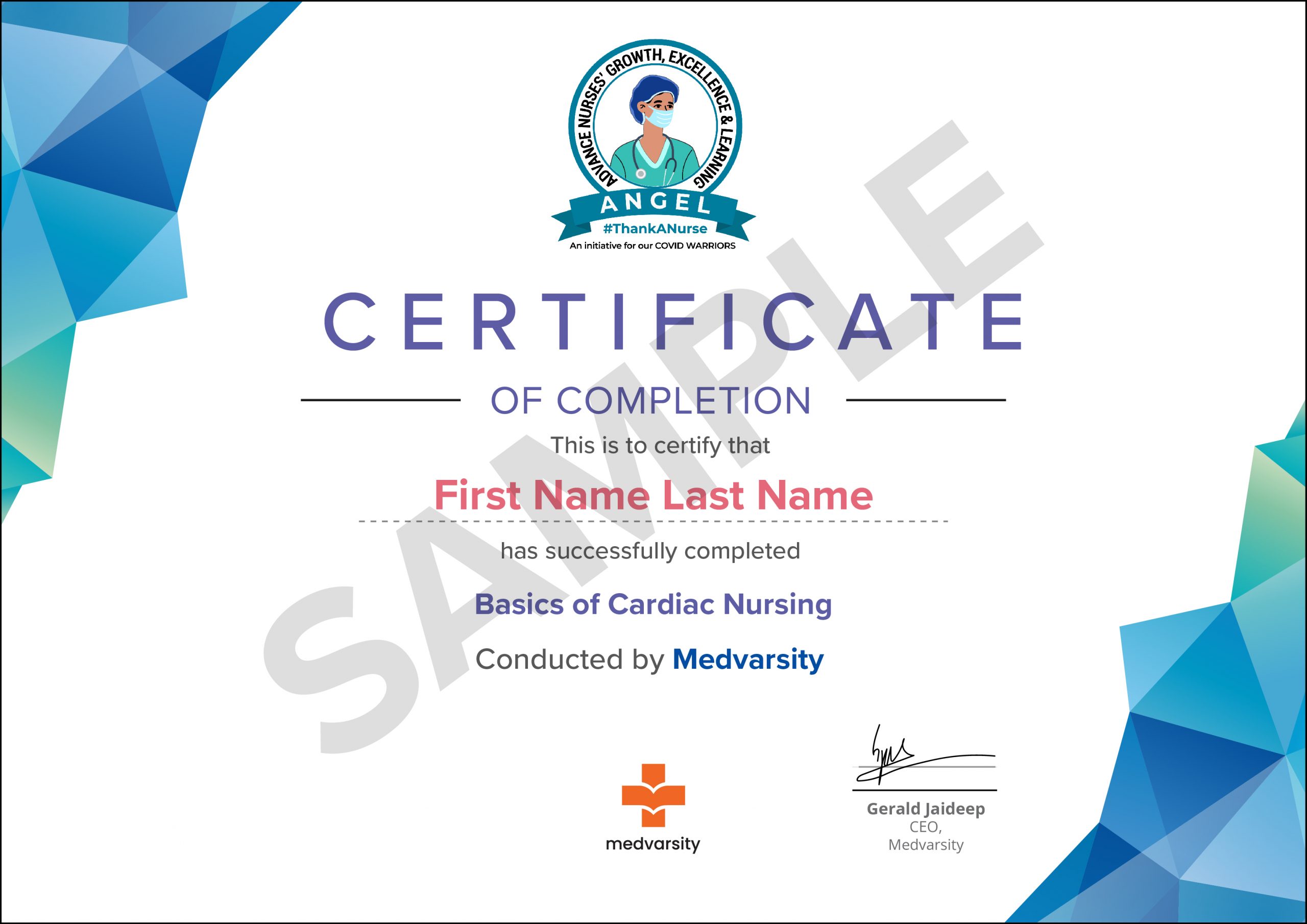 Course Curriculum
By enrolling in the Basics of Cardiac Nursing course, you will gain comprehensive knowledge in the prevention, diagnosis, and treatment of cardiac diseases. This course will cover a comprehensive overview of cardiovascular examination and common cardiovascular diseases,  emergency drugs, and procedures in the cardiac care unit. You will learn about the different types of emergency drugs used in cardiac care, their indications, contraindications, dosages, and administration routes. Another important focus of this program will be cardiac rehabilitation, which plays a critical role in the recovery and management of patients with cardiovascular diseases. Nurses will learn about the components of cardiac rehabilitation, including exercise training, dietary management, risk factor modification, and psychosocial support. This course will emphasize the importance of patient education and counseling to promote self-care and lifestyle changes that can improve cardiovascular health and prevent complications.
Upon completion of this course, you will be able to:
1. Understand the role of thorough cardiac examination, including assessing vital signs, auscultating heart sounds, and interpreting cardiac monitoring.
2. Familiarize yourself with emergency drugs commonly used in cardiac care units, including antiarrhythmic agents, vasopressors, and anticoagulants, and understand their importance.
3. Recognize the significance of cardiac rehabilitation in the overall management of patients with cardiovascular diseases, including its role in improving functional capacity, reducing cardiovascular risk factors, and enhancing patient education and counseling.
4. Gain knowledge about the procedures commonly performed in cardiac care units, and understand their indications.
Upon completing the course, you will be rewarded with a certificate in "Basics of Cardiac Nursing."
Curriculum
Module 01: Cardiac Nursing

Topic 1: Introduction to Cardiac Nursing

Topic 2: Cardiovascular Examination

Topic 3: Emergency Cardiac Drugs

Topic 4: Common Cardiac Conditions

Topic 5: Common Procedures in Cardiac Critical Care

Topic 8: Mechanical Ventilation

Topic 9: Cardiac Rehabilitation
Course Eligibility

Nurses