What you'll learn
Vaccine administration and immunization

Early identification of vaccine-related adverse events and providing primary care
Sample Certificate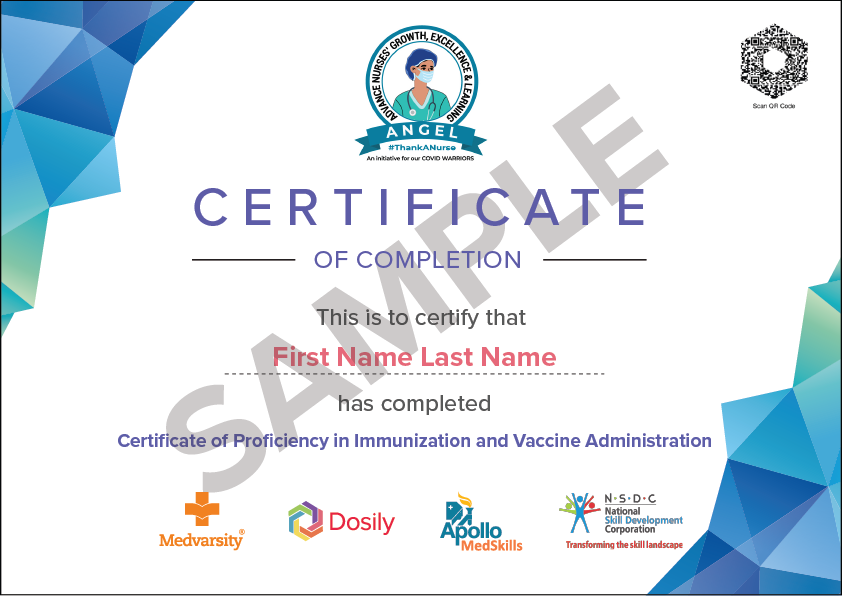 Program Overview
Many people suffering from COVID-19 have recently been diagnosed with black fungus disease, also known as mucormycosis. The fungus spreads through the sinuses and into the intraorbital and intracranial areas.

Course Curriculum
The entire world is looking forward to a safe and effective COVID-19 vaccine and is gearing up for immunization of her population to reduce the COVID-19 related illnesses, hospitalizations, and deaths. With India producing nearly 60% of the world's vaccines, the requirement for skilled professionals to administer vaccines has shot up manifold.
To best address this market demand, governments worldwide aim to utilize the workforce within the current healthcare system. Therefore, the need of the hour is to have uniform training and skilling for all healthcare providers to engage in vaccine administration. MEDVARSITY has designed the "Certificate of Proficiency in Immunization and Vaccine Administration" to address various health personnel's academic and functioning capacities. This course has been researched and designed with the inputs of healthcare professionals and medical experts which would be worth taking.
Curriculum
Module 1: Introductory Module

Module 2: General Considerations

Module 3: Patient Assessment

Module 4: Vaccine Administration

Module 5: Post Vaccination Complications
Course Eligibility

B.Sc. Nursing

M.Sc. Nursing

GNM HealthCare workers

GNM HealthCare workers

nursing