What you'll learn
Evaluate requirement of digital health systems within the organization

Leverage knowledge of clinical, biomedical, and bioethical concepts and apply the same to clinical care processes through technology

Apply new strategies to manage current technology projects within existing hospitals and clinics

Define best practices for managing change during the implementation of digital health
Sample Certificate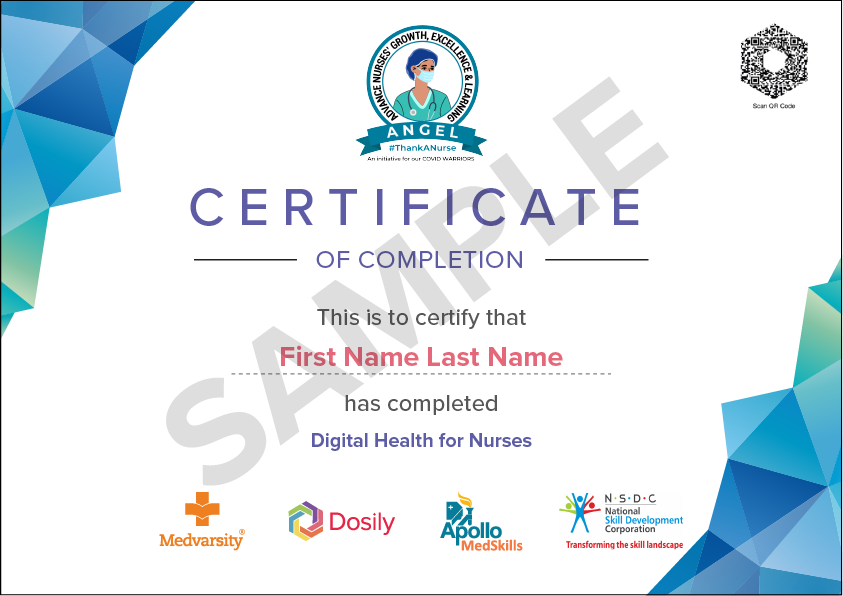 Program Overview
Over the years the convergence of medicine and technology has become significantly pronounced. Computers are an integral part of every healthcare setting, and the last decade has shown tremendous possibilities in leveraging AI, Healthcare Informatics, Big Data, Machine Learning, and teleconsulting to further the impact and outcomes of medicine. The COVID19 pandemic has brought the need for inclusion of telemedicine and tele-diagnostics to the front, and we humans continue to evolve post this current crisis, the shift from traditional to digital health is going to be more pronounced. The certificate program in Digital Health gives basic understanding of how technology can be used to transform the field of healthcare. On completion of the Course, the student will be awarded the Certificate in Digital Health. The entire course is certified by the College of Healthcare Information Management Executives (CHiME) India.

Course Curriculum
As we have learned so far, Digital health technologies help to improve the efficiency, accessibility, affordability of various health care services and also help make the treatment more personalized. In recent years, at least some of the digital health products, if not all, have become integral to the prevention, diagnosis and management of various health-related ailments for both health care professionals and patients.
Curriculum
Digital Health-Introduction

Digital Health- A overview

History and Origin

Function and Goals

Difference between medical technology and information technology in healthcare

Categories of Digital Health Products and services

Government Policies & International Body Policies

Significance of Health IT standards

Disadvantages of the Health IT standards

Important Health IT Standards to watch

Digital health in an institution

Healthcare Interoperability

Healthcare Interoperability Expert Talk

Digital Health Information Technology

Digital Health Information System

Digital Health Technology Integration in Clinical Setup Part 1

Digital Health Technology Integration in Clinical Setup Part 2

Understanding the types of Health information technology

Patient safety in healthcare- A summary

Patient safety in healthcare- A summary

Organizational and Informational Workflow in a Hospital

Impact of workflow on the quality of work

Healthcare Information Security (in changing cybersecurity landscape)

Advancing Hospital & Information Workflow; A key to better patient outcomes (sustainability part of change management)

Ethics and Privacy in Digital Health – Overview

Ethical chances and Challenges- Pre & Post Usage

Ethical Guidelines to be followed

Why is ethical guidance needed?

How to foster and enforce ethical guidelines?
Course Eligibility

Nurses